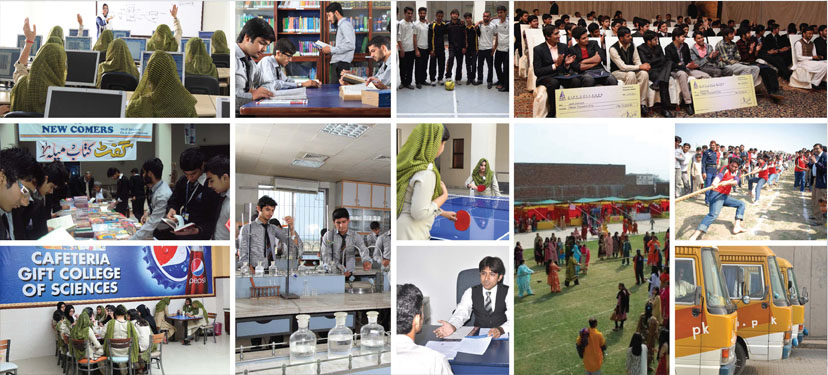 Why Choose GIFT?
GIFT Group of Colleges is best known for its excellent facilities and infrastructure available for all the enrolled students. The academic facilities are unmatched which results in better prospects for the students.
Quality
Founded in 2002, GIFT Colleges have been acclaimed as the most prestigious institutes of learning in this region. GIFT Group of Colleges is dynamic and successful center of learning, imparting high quality education with personality grooming.

Choice of Programs
Complete range of professional disciplines for boys & girls including FSc (Pre-Medical, Pre-Engineering & General Science), Commerce, Computer Science, Fine Arts and BSc offer an exceptionally competitive learning environment.

Best Results
Best results in the Board of Intermediate & Secondary Education among the leading colleges. The college has a long list of alumni studying in known professional colleges and universities in Pakistan as well as abroad.

Experienced Faculty
Most experienced and best faculty available in the region to explore the highest potential through latest teaching methodologies.

Professional Development Center (PDC)
A wide range of social, sporting and leisure activities are being arranged by Professional Development Center (PDC) to explore and outshine the hidden skills in students.

Student Support System
Students experience high levels of support in their all concerns from Tutors, Student Affairs Department and all Management of GIFT Colleges.

Affordability
GIFT Colleges have the vision that "No student should be restraint from studies just because of finances". GIFT Colleges offer a number of merit based scholarships, financial assistance and loan schemes. A 50% rebate, in the form of scholarships, financial assistance etc has been approved for 2018 session.

Separate Hostels for Boys and Girls
GIFT Colleges offer separate hostels for boys & girls, giving the best learning environment.

Location
GIFT Colleges are located at central point in the city to cater the students from all areas of the city and surrounding suburbs and are easily accessible to all locations.

Facilities
State of the art purpose built air-conditioned separate campuses for boys and girls, well maintained and furnished class-rooms with a sitting plan of 45 to 55 students help us to focus on the individual behavior of the students academically as well as in general. GIFT Colleges also offer separate air-conditioned transport facility for boys and girls.
Transport Facility
GIFT Colleges also offer separate air-conditioned transport facility for boys and girls. In addition a door to door transport facility for girls is also available.